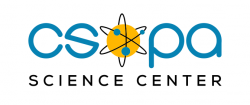 Csodák Palotája – a place full of experiences, not only for Hungarian speakers!
The 22 year old Csodák Palotája has the aim not only to constantly offer new attractions to the visitors, but also to make the foreign guests as satisfied as the Hungarian ones after an unforgettable day spent in the center.
On the 5000 m2 area, 8 thematic exhibitions with over 250 interactive tools, 4 scientific escape rooms, 3 ride movie cinemas and also several lectures and lab sessions are available in English language to ensure the full range entertainment of the guests from abroad.
Whether it is a family day, a school trip, a team building program of a company, or even a date - Csopa is waiting for Hungarian and foreign visitors as well with multifarious programmes to offer.
Play, experiment, and explore the wonders of the world around us!
Using your ESNcard, you can get 15% off of your ticket and you can try a Csopa Circle Cinema road movie for free.