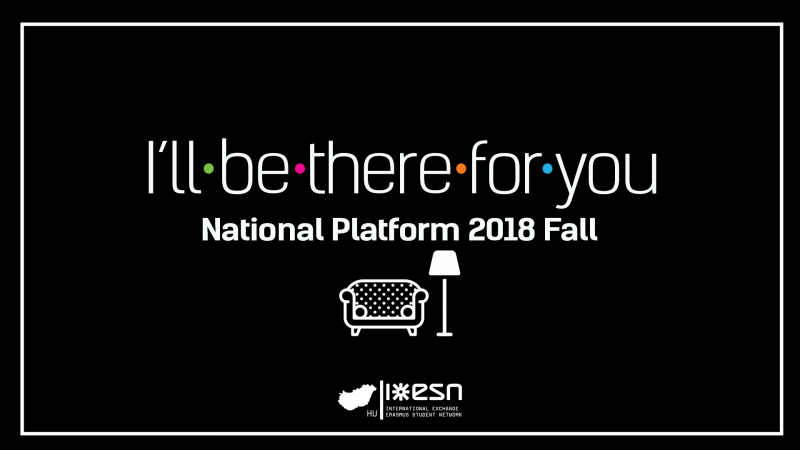 Dear ESN Hungary Members,
How you doin'? We were on a break for a while, but on the 23rd of November we are back with the fourth National Platform of 2018 and this time we will gather together like old Friends. Because we will be there for each other always! Are you ready for the next episode? 
The location this time is the beautiful city of Esztergom, and the event is organised by ESN BME once again.
They have already started working to make the most out of it, so you can expect a very fruitful event just like the last time with many discussions, presentations, and of course teambuilding sessions!
Date:
23rd to the 25th of November
Location of the accommodation and venue of the plenaries: 
Rugby Club Hotel
Esztergom, Nagy Duna sétány. 1, 2500
Exact location:

Price:
2 Nights - 15.500 (accommodation for two nights, dinner on Friday, breakfast, lunch and dinner on Saturday, breakfast on Sunday, meals at the coffee breaks, welcome pack and of course BME Spirit)
1 Night - 11.000 (accommodation and meals from Saturday to Sunday, welcome pack)
Registration
You can register until the 2nd of November 23:59. 

Payment
This time you have to transfer the participation fee until the 9th of November, to Réka Oros Head of OC or Diána Balázs Head of OC. You will get every relevant information regarding the payment methods within an e-mail after your spot gets confirmed. 
Questions
In case you have any questions, you can contact Réka Oros and Diána Balázs - Head of OC's - on the following e-mail: [email protected]
More details and registration:
https://events.esn.hu/?q=event/national-platform-2018-fall-esn-bme
Invite every relevant person to the event, let's get together and have an amazing NP!