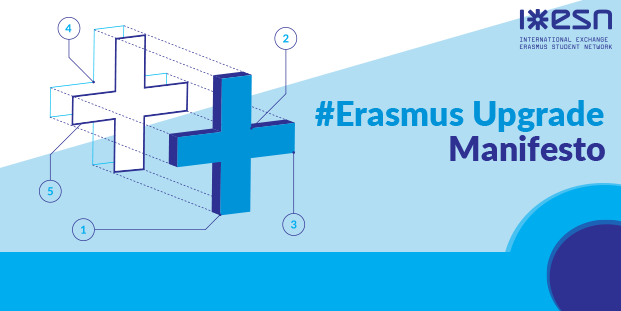 Following over 2 years of consultations, on the 27th of April the Erasmus Student Network released the #ErasmusUpgrade Manifesto which contains 13 recommendations to improve the successor of the Erasmus+ Programme.
The manifesto targets all involved in the conceptualisation and implementation of the Erasmus+ programme, specifically the European Institutions, National Authorities, higher education institutions, and the participants in the programme. Its results are the base of ESN's stands on the international and national level in the context of upcoming discussions on the funding and shape of the Erasmus+ successor programme.
ESN wishes to see the OUTREACH of the programme increased, both in Europe and throughout the world through the use of mass media and new digital tools. We recommend implementing reinforced and inclusive SUPPORT SERVICES to face societal challenges and equip participants with the skills they need to face the challenges of the 21st century. The IMPLEMENTATION AND MANAGEMENT of the programme should be improved by standardising mobility processes and introducing digital tools to counter bureaucracy and reduce paperwork. We demand full RECOGNITION OF MOBILITY OUTCOMES through better communication, implementing mobility windows and an "integrated Erasmus+ approach" to study and work. Finally, ESN asks for an INCREASED BUDGET FOR MORE QUALITY, OUTREACH, AND TRANSPARENCY to improve the inclusion of students from disadvantaged backgrounds, national support towards mobility, and monitoring and levelling incoming and outgoing students.
"The Erasmus+ programme is one the greatest successes of the European Union. The participants of the programme feel more European, understand better their place in society, and develop better skills than their peers. All this combined makes them great ambassadors of the EU and its values. It is having this in mind, and wishing to see an increase in the success of the programme, that has led ESN to present these recommendations in the form of a manifesto."
- João Pinto, President of the Erasmus Student Network
#ErasmusUpgrade is an Erasmus+ KA3 Dialogue with Decision-makers project with input gathered through an online questionnaire with over 1,000 answers, face-to-face consultations with volunteers from across ESN's 40 member-countries and contributions from International Relations Offices. Results of the consultation were discussed with decision-makers involved in the revision of the Erasmus+ programme during an event which gathered representatives from 25 European countries, including non-EU member states. The project has been organised together with ESN Belgium and funded by JINT.
Erasmus Student Network (ESN) is the biggest student association in Europe. Present at over 1000 Higher Education Institutions, it unites over 500 local associations in 40 countries. More than 15,000 volunteers take care of international colleagues under the motto "Students helping students". ESN works for the creation of a more mobile and flexible education environment by supporting and developing the student exchange from different levels, and providing an intercultural experience.
For more information, contact Kacper Olczyk at [email protected] and visit www.esn.org
Check out the manifesto here or download it down below.