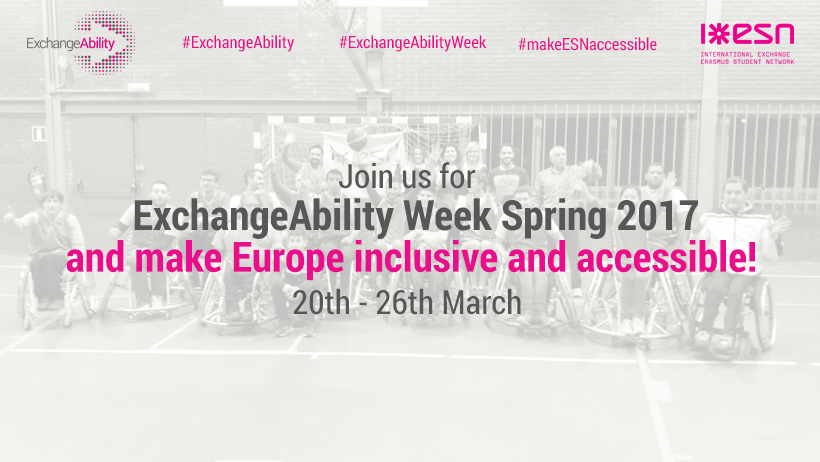 ExchangeAbility Week Spring 2017
The year 2017 marks the 30th anniversary of the Erasmus programme and what could be better than to dedicate one week to doing our best to increase the number of students with disabilities taking part in mobility programmes?
From March 20th to March 26th, the Erasmus Student Network and its volunteers from 500+ sections will dedicate their time and efforts to the celebration of the ExchangeAbility Week Spring 2017.
ExchangeAbility Week is an initiative of the ExchangeAbility project that will bring Europe together through events that promote the mobility programmes available for all students with a particular emphasis on the opportunities available for students with disabilities. All in all, the initiative aims to make Europe a more inclusive and accessible place, and thus not only promoting mobility, but also raising awareness about obstacles faced daily by students with disabilities.
Studying abroad is becoming more popular and an ever increasing amount of students go on a student exchange every year. However, when it comes to students with disabilities, the numbers are not increasing at the same rate. That is why the Erasmus Student Network believes that it is high time to improve the conditions for these students, with a parallel goal of making ESN more inclusive and accessible as an organisation.
During ExchangeAbility Week, ESN sections from all around Europe will organise events and activities under the ExchangeAbility project, aiming to make a change on the matter.
ESN members will educate their students and fellow volunteers on the topic of disabilities and thus contribute to a more inclusive society and organisation. They will also be promoting mobility for students with disabilities, by spreading the message on the opportunities available, sharing testimonials of those who did it and by mapping the accessibility of university campuses with our MappED! platform.
We believe that we CAN make a change and everyone is more than welcome to join! As a celebration of the 30th anniversary of the Erasmus programme, it makes even more sense that we get together and spread the word, take action and ultimately, celebrate this week actively fighting for a world where inclusion is standard, especially when it comes to Higher Education and its opportunities.
Disability is indeed a possibility and the Erasmus Student Network wants everyone to have the same and equal opportunities. We're sure we want to take part and make our contribution! We couldn't be more excited about it! Are you?
Join the ExchangeAbility Week Facebook Event and follow the hashtags #ExchangeAbilityWeek, #ExchangeAbility and #THISisESN to keep updated!