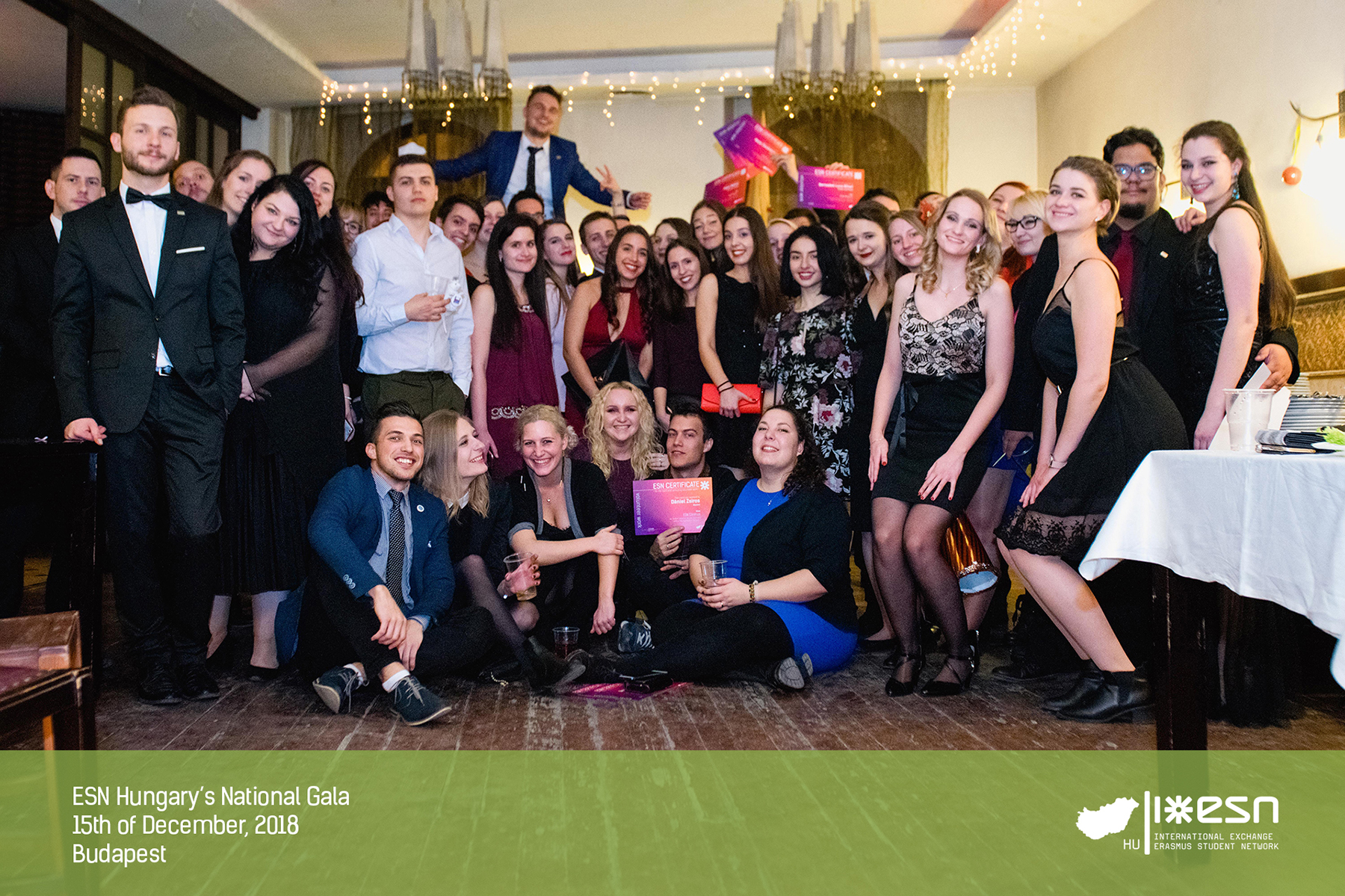 (A magyar leírásért görgess lentebb.)
National Gala of ESN Hungary, 2018 - Summary
Written by Dorottya Nagy
The end of the year is a special time for everyone. It's good to stop for a minute and think about everything you've accomplished through the year. 2018 was an eventful and challenging year, but at the end, we all gained many beautiful memories and ESN Hungary took the time to celebrate the organization's hard work on the 15th of December.
Once a year all sections are invited to spend an evening together, praise the amazing work they've done and be thankful with the people they shaped the organization all year. ESN Hungary's National Gala was held at Menta Terasz this year with many participants from sections from all around the country. The night was opened by a few words from the communication manager, Zsófia Zsuzsanna Báthory, who introduced the programme of the evening and then came the part many of us were waiting for, the food. The room was filled with happy chattering, members were enjoying a delicious meal with their fellow ESNers, talking about the best memories of the year and their future plans for 2019. Once the eating was over the president, Gergő Stefán had his year closing speech talking about that despite the ups and downs we had to go through the year we all did an amazing job. Champagne glasses were clinking all around the room when he finished his speech.
It has been a tradition that there is a raffle held at the Gala where we have the chance to win a wish from one of the board members. Happy screams filled the place every time a number was drawn and someone won a wish from the lovely board. This year all the money that came in for the raffle went to the best place, it was donated to SZIA InDaHouse, an organization that is working to make a safe environment for children where they can learn and develop at poorer regions. It was a pleasure to know we could help such a great cause.
The evening rolled on and the time came when the hard work got awarded in an official and this time, a not too official way as well. Every year ESN Hungary gives the chance to the sections to apply for different awards from the best events to the development of the year in many different categories. A round of applause ran through the place every time a section was called for an award, members were celebrating the success together, as one. This year there was a new category, the ESNer of the year which was awarded to Dóra Máté, ESN BME's president for her hard and dedicated word. ESN BME also won the section of the year award, while the development of the year was awarded to none other than ESN Miskolc, congratulations for their amazing job!
The National Board this year decided to bring some more fun into the awarding as well. Besides the official certificates and awards many members got to claim their non-official positions, so Zsófia Zsuzsanna Báthory, Zsuzsanna Szugyiczki, Gergő Stefán, Gábor Lajkó and Balázs Krabácz called out for inter alia the National Meme Coordinator, National Paparazzi Coordinator or National jOCi to accept their certificate, all based on jokes that were born through the year.
The rest of the night was spend with a lot of dancing on the dancefloor, everyone enjoyed this one last evening together with the people they've been working together all year. It can surely be said that it was an excellent way to end 2018. We all hope 2019 is holding just as many laughs, success and love for us as last year did, and ESN Hungary is ready to take up on the challenges the new year is holding for us!
ESN Hungary Nemzeti Gála, 2018 - Összefoglaló
Írta: Nagy Dorottya
Az év vége egy különleges időszak mindenki számára. Kiváló alkalom arra, hogy megálljunk egy percre és elgondolkodjunk mindazon, amit elértünk az évben. 2018 egy igazán eseménydús és kihívásokkal teli év volt, de rengeteg gyönyörű emlékkel gazdagodtunk, és ESN Hungary idén is időt szakított arra, hogy megünnepelje a szervezet kemény munkáját December 15-én.
Minden évben egyszer a szekciók tagjai hivatalosak egy estélyre, ahol megünnepelhetik mindazt, amit véghez vittek és hogy hálát adjanak mindazért, ami idén a szervezetet azzá formálta, ami. A gálának idén a Menta Terasz adott otthont, ahol számos résztvevő gyűlt össze az ország megannyi szegletéből. Az estét a kommunikációs alelnök, Báthory Zsófia Zsuzsanna nyitotta, aki ismertette az este programját, majd eztán jöhetett a várva várt rész, az evés. A termet megannyi boldog csevej töltötte meg miközben a résztvevők elfogyasztották a finom vacsorát, miközben kedvenc élményeikről és jövő évi terveikről beszélgettek. Amikor az étkezés véget ért az elnök, Stefán Gergő megtartotta évzáró beszédét néhány kedves gondolattal, beszélt a nehézségekről, amikkel meg kellett küzdenünk, és persze arról, hogy ezek mellett milyen csodálatos munkát végeztünk. Pezsgős poharak koccintása töltötte meg a helyiséget, amikor a beszéd véget ért.
Már hagyománnyá vált, hogy a gála során sor kerül tombola húzására is, ahol esélyünk van egy úgynevezett kívánság elnyerésére valamelyik elnökségi tagtól. Örömteli sikolyok hangoztak fel minden egyes szám kihúzásakor, amikor is valaki elnyerte ezeket a kívánságokat. Idén a tombolán befolyt összeg a lehető legjobb helyre került, az ugyanis a SZIA InDaHouse alapítványnak lett adományozva. A szervezet hátrányos helyzetű térségekben igyekszik a gyermekeknek tanulásra alkalmas és foglalkozások színteréül szolgáló helyiségeket építeni. Öröm volt tudni, hogy egy ilyen jó célt segíthettünk.
Ahogy az este folytatódott eljött az ideje, hogy a kemény munkát immáron hivatalos, és kevésbé hivatalos módon is díjazzuk. ESN Hungary minden évben lehetőséget ad a szekciók számára, hogy pályázzanak különböző díjakra a legjobb eseménytől kezdve egészen az év legtöbbet fejlődő szekciójáig mindenféle kategóriában. Tapsvihar kísérte minden egyes alkalmat, amikor egy-egy szekció győzelme kihirdetésre került, a tagok együtt ünnepelték a sikereket. Idén egy új kategória is bevezetésre került, méghozzá az év ESNer-e díj, amelyet elsőként Máté Dóra, az ESN BME elnöke nyerhetett el kemény és elhivatott munkájáért. Emellett az év szekciója is az ESN BME lett, míg az év legtöbbet fejlődő szekció díját pedig ESN Miskolc nyerte el, gratulálunk a kiváló munkájukhoz!
Az elnökség idén egy kis mókát is belecsempészett a díjátadóba. A hivatalos tanúsítványok mellett számos tag foglalhatta el pozícióját, mint nem hivatalos koordinátor, így Báthory Zsófia Zsuzsanna, Szugyiczki Zsuzsanna, Stefán Gergő, Lajkó Gábor és Krabácz Balázs sorra hívták a színpadra például a National Meme koordinátort, a National Paparazzi koordinátort vagy épp a National jOCi koordinátort, hogy átvegyék tanúsítványukat. Ezek mind az év során elhangzott viccek alapján kerültek kiosztásra.
Az este további részét rengeteg táncolással töltöttük, mindenki élvezte ezt az utolsó együtt töltött alkalmat azokkal az emberekkel, akikkel egész évben együtt dolgozott. Magabiztosan kijelenthető, hogy méltó lezárása volt 2018-as évnek. Reméljük, 2019 legalább annyi nevetést, sikert és szeretetet tartogat számunkra, mint a tavalyi év, és az ESN Hungary készen áll az új kihívásokra, amiket a következő év tartogat számunkra!