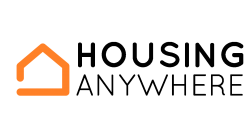 We change the way people find accommodation around the world
Housing Anywhere is a housing platform where people can rent out rooms to international students. It originally started as a platform where outgoing exchange students can rent out their rooms when they go abroad. Incoming exchange students can rent these rooms. Nowadays, it's a global platform where demand & supply of rooms for international students meet each other.
Housing Anywhere was founded by a student, Niels, from the Rotterdam School of Management (RSM) Erasmus University, the Netherlands in 2009. Niels wanted to go on an exchange semester to Singapore, but he ran into a problem: what to do with his own student room in Rotterdam during that semester? None of the local Dutch students were interested in renting a room for just 1 semester. At the same time, there were a lot of incoming international students that were all looking for rooms in Rotterdam. That is how HousingAnywhere.com started: Niels created a platform where he and his fellow classmates could rent out their rooms, so that incoming international students can rent these rooms.
127 partner universities in 22 countries
Incoming students have a need for accommodation. They can simply search for the city your university is located at and start chatting with the advertisers of rooms and come to an agreement on Housing Anywhere. The advertisers can be your outgoing students or trusted landlords of Housing Anywhere. The secure booking service guarantees that students book a secure place.